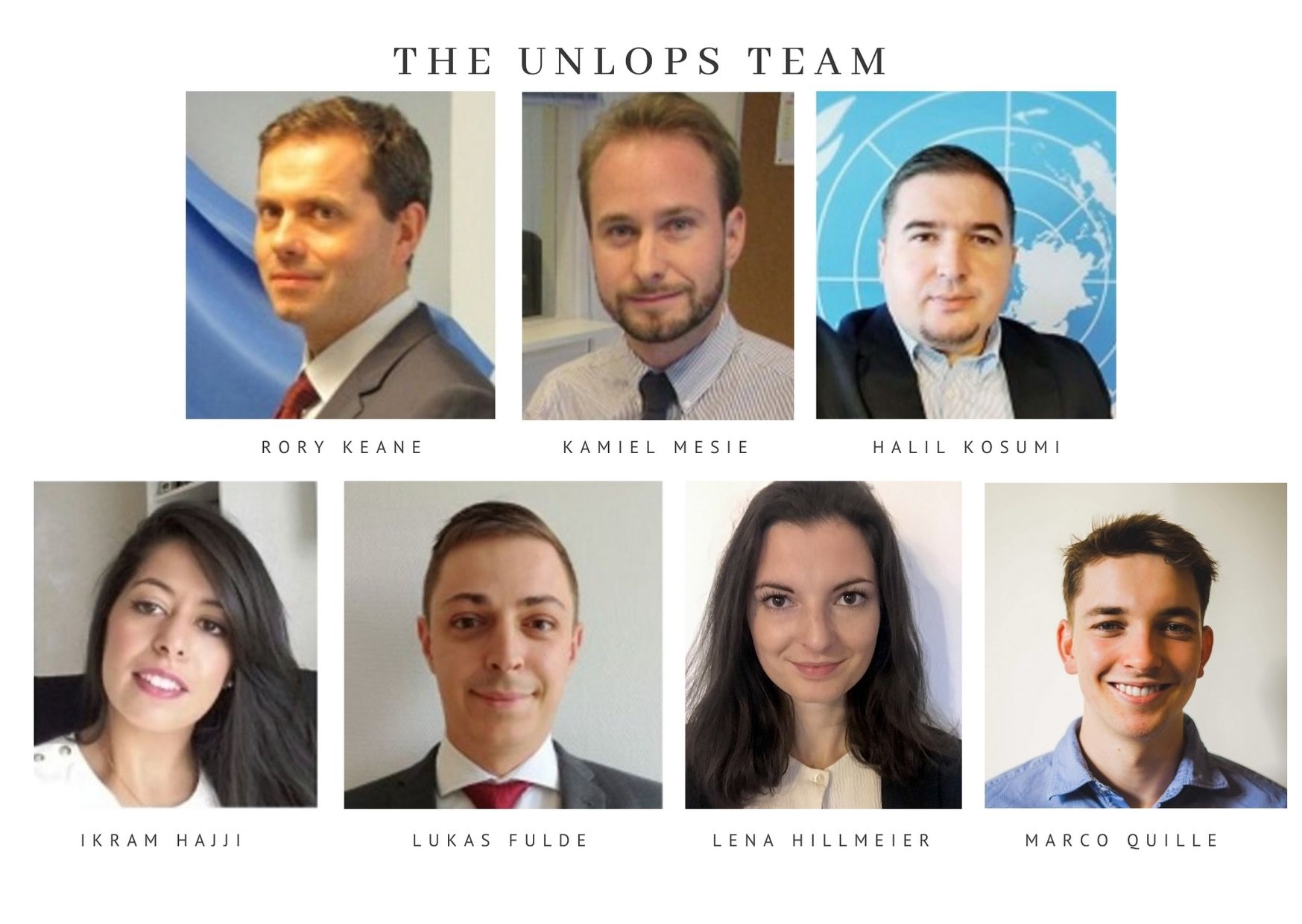 Rory Keane, Head of Office
Before his appointment as Head of the UNLOPS, Rory Keane worked for the United Nations Special Envoy for the Sahel Region and served as the security sector advisor to the UN Special Representative in Liberia. Prior to that, he was Team Leader of the OECD International Network on Conflict and Fragility, European Commission Desk Officer for the DRC and Great Lakes, as well as the OSCE Spokesperson in the former Yugoslavia. Rory Keane holds a PhD in International Relations and a Marie Curie post-doctoral fellowship on EU peace and security policy. He speaks English, French and German.
Kamiel Mesie, Political Affairs Officer
Before his appointment at UNLOPS, Kamiel worked as a Fellow for the delegation of the European Union to the UN Headquarters in New York. Prior to that, he worked at the Parliamentary Assembly of the OSCE and on consultancy basis for the OSCE Office for Democratic Institutions and Human Rights. Kamiel also has work experience at NGO level and interned at the Netherlands Ministry of Foreign Affairs. Kamiel holds a Bachelor degree in European Studies and a Master Degree in Human Rights and Democratization from the European Institute for Human Rights in Venice, Italy. He speaks Dutch, English, French and Italian.
Florian Ruehl, Liaison Officer
Florian previously worked for other UN agencies supporting stabilization initiatives in the MENA region and West Africa as well as training and capacity building efforts in the area of preventing and countering violent extremism. Before joining the UN, he has worked in the International Staff at NATO Headquarters in Brussels. Florian has also worked in NGOs and Think Tanks on Rule of Law and Conflict Research. He has studied in the UK, Germany and France and speaks English, French and German.
Halil Kosumi, Associate Liaison Officer
Before his appointment at UNLOPS, Halil worked on global partnerships development with the External Relations and Communications team of the United Nations Volunteers (UNV) Headquarters in Bonn, Germany. Prior to that, he worked with the UN Kosovo team supported by the UNDP, OHCHR, UN Women and the IOM. For seven years he worked for the analysis and reporting cell within the OSCE Mission in Kosovo. He also worked for NGOs in the Balkans region and in the Netherlands. Halil Kosumi holds a LL.M in International Human Rights Law from the University of Essex, United Kingdom and a LL.M. in South East European Law and European Integration from Karl-Franzens University, Austria. He graduated in Law. Halil speaks English, Albanian, Serbian, Bosnian, Croatian and is interested to learn French.
Ikram Hajji, Consultant
Before her appointment at UNLOPS, Ikram worked in the Directorate-General "Foreign Affairs, Enlargement and Civil Protection" of the Council of the European Union in Brussels, the French Embassy in Berlin and participated in several crisis management simulations within Interpol, in Lyon and in the United Nations headquarters in New York. Ikram holds a Master degree in European Law from the Freie Universität Berlin, in Germany and in European, International and Strategic affairs from Sciences po, in France. She speaks French, English, German and Arabic.
Lukas Fulde, Junior Consultant
Before his appointment as Junior Consultant, Lukas worked as Carlo-Schmid Fellow at UNLOPS. He previously worked in the Cabinet of the European Commissioner for the Security Union as well as for the European Commission's communication services. Lukas also interned at Germany's Federal Foreign Office, the Federal Ministry of Defence and the Federal Ministry for Economic Cooperation and Development. Lukas holds master's degrees from Sciences Po Paris, France, and the College of Europe, Belgium, a bachelor's degree from Sciences Po Paris, France, and a Diploma from the University of Kent, United Kingdom. He speaks German, French, English, Spanish and Polish.
Lena Hillmeier, Carlo Schmid Fellow
Before her appointment as Carlo Schmid Fellow, Lena headed the Working Group on Youth Employment of the European Student Think Tank. Previously, she interned at the German Foreign Office and the German Ministry for Economic Cooperation and Development. Lena holds a master's degree in European and International Public Policy from the London School of Economics and Political Science and a bachelor's degree in French and Russian from University College London. She speaks German, English, French, Russian and Polish.
Marco Quille, Intern
Marco is currently interning at UNLOPS where his work focuses on the EU's technological footprint in peace and security. He also collaborates with the service for Policy Planning, Policy and Best Practices on peacekeeping and technology. Marco is a graduate of the Liberal Arts & Science program at the University College Utrecht with a major in political science. He speaks English, Italian, French, and Spanish.