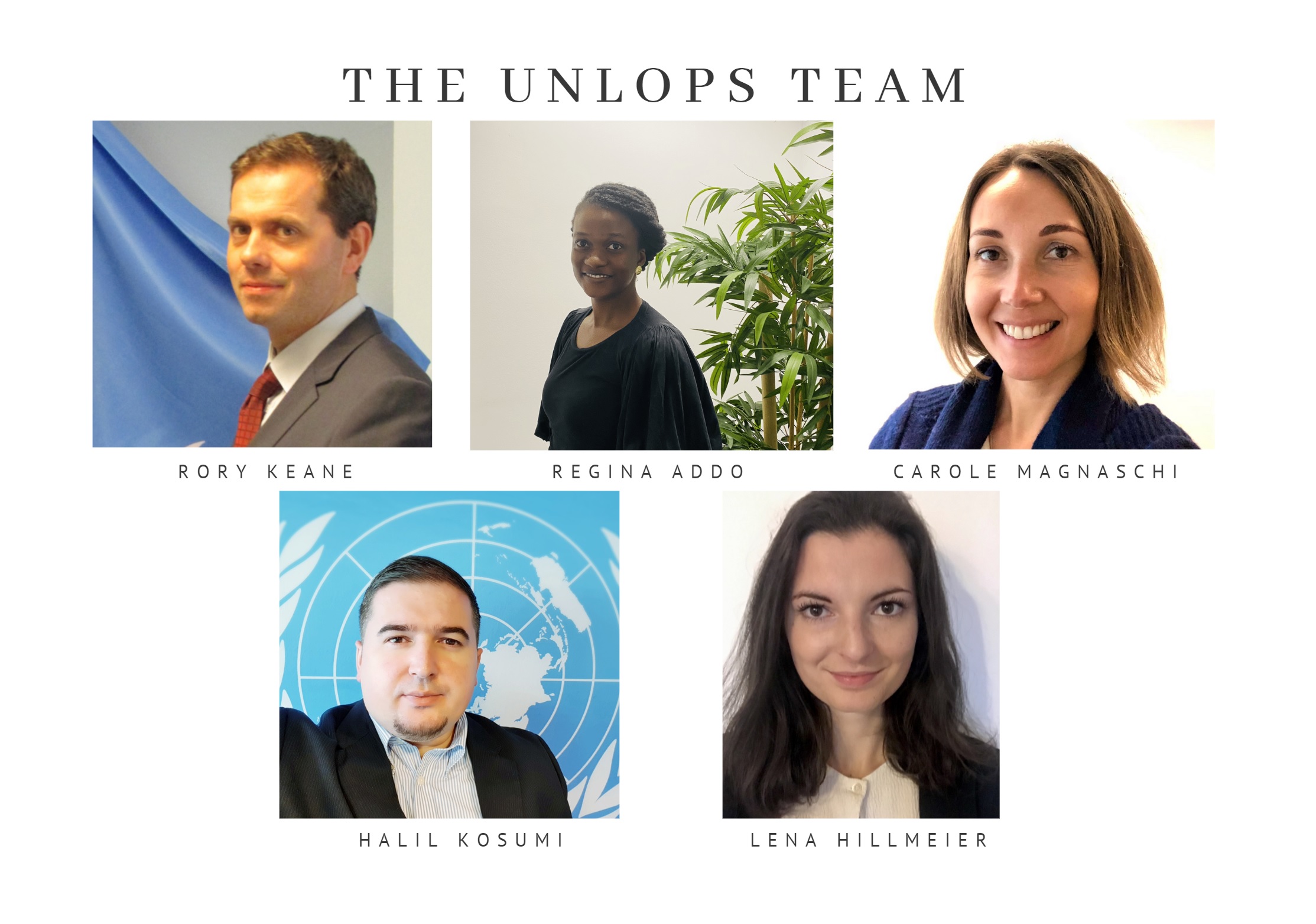 Rory Keane, Head of Office
Before his appointment as Head of the UNLOPS, Rory Keane worked for the United Nations Special Envoy for the Sahel Region and served as the security sector advisor to the UN Special Representative in Liberia. Prior to that, he was Team Leader of the OECD International Network on Conflict and Fragility, European Commission Desk Officer for the DRC and Great Lakes, as well as the OSCE Spokesperson in the former Yugoslavia. Rory Keane holds a PhD in International Relations and a Marie Curie post-doctoral fellowship on EU peace and security policy. He speaks English, French and German.
Carole Magnaschi, Political Affairs Officer   
Before her appointment as UNOCT Political Affairs Officer, based in UNLOPS, Carole served as Security Sector Reform Officer within the Department of Peace Operations Office of Rule of Law and Security Institutions, in New York. Previously, Carole was a Political Affairs Officer with the Department of Political Affairs Policy and Mediation Division. She also worked as a Communication and Reporting Officer within the Deputy Executive Representative of the Secretary-General's office of the Bureau Intégré des Nations Unies au Burundi (BINUB). Prior to her career at the UN, she was Program and Fundraising Coordinator in a London-based think tank focusing on European and international economic issues. Carole holds an MSc in international political economy from the London School of Economics and Political Science and a Master's in international affairs/conflict and security from Sciences Po Paris. She has also studied at the University of Virginia.
Regina Addo, Programme Management Assistant
Before her appointment at UNLOPS, Regina worked with OCHA Human Resource Section and DPPA-DPO Middle East Division at UN Headquarters in New York. Prior to joining UNHQ, Regina worked with Sidley Austin LLP as a Programme Manager under the Pro Bono Programme, which provides free legal support to social enterprises, non-governmental organizations, and nonprofits that have a clear social impact in developing countries across Africa, Asia, Central and South America and the Caribbean. Regina holds a Bachelor's degree in Economics from KNUST in Ghana and a Master's in Development Studies from the Graduate Institute in Geneva. 
Halil Kosumi, Associate Liaison Officer
Before his appointment at UNLOPS, Halil worked on global partnerships development with the External Relations and Communications team of the United Nations Volunteers (UNV) Headquarters in Bonn, Germany. Prior to that, he worked with the UN Kosovo team supported by the UNDP, OHCHR, UN Women and the IOM. For seven years he worked for the analysis and reporting cell within the OSCE Mission in Kosovo. He also worked for NGOs in the Balkans region and in the Netherlands. Halil Kosumi holds a LL.M in International Human Rights Law from the University of Essex, United Kingdom and a LL.M. in South East European Law and European Integration from Karl-Franzens University, Austria. He graduated in Law. Halil speaks English, Albanian, Serbian, Bosnian, Croatian and is interested to learn French.
Lena Hillmeier, Consultant
Before her appointment as Carlo Schmid Fellow, Lena headed the Working Group on Youth Employment of the European Student Think Tank. Previously, she interned at the German Foreign Office and the German Ministry for Economic Cooperation and Development. Lena holds a master's degree in European and International Public Policy from the London School of Economics and Political Science and a bachelor's degree in French and Russian from University College London. She speaks German, English, French, Russian and Polish.